Michał' sweet Greenpoint story. Welcome to the Charlotte Patisserie Café​​​​​​
Published on May 6 2022
For as long as he can remember, Michał Lechowicz, the owner of Charlotte Patisserie, famous for its delicious pastries miles outside of Greenpoint, has been passionate about two things: sports and baking with his mother.
"At home, we cooked and baked every Saturday", he recalls. "I've always liked cooking and loved helping with the baking. With trepidation, we'd wait impatiently for what came out of the oven. With the kitchen equipment of those days, even experienced cooks could never be sure."
I did it my way
Michał was born and raised in Łomża. He moved to the States right after graduating high school, joining his parents and older sister Magda. Thanks to his dad, who had been living in America for many years, Michał had a green card, so he came as a permanent resident, making it easier for him to take the first steps in a new country.
"Unfortunately, I didn't know the language," he says. "In elementary school I was still learning Russian and it was only in high school that we were taught English. But you can probably imagine what my English was like at that time. And I wanted to continue my education."
He decided to take time off school to learn English first, enrolling in language courses. Other than that, he worked with his dad on roofing and construction sites. He also got his lifeguard license and took a job at Rockaway Beach over the summer.
"But I wanted to do more, so I applied to LaGuardia College to study management," he recalls.
He worked and studied at night but kept looking for a more satisfying job. His thoughts turned to confectionery.
"I kept my passion for cooking alive," he recalls. "Between work, school and home, I completed various cooking courses. I was able to keep across the goings on in the culinary world of New York. We adopted the tradition of weekend and holiday baking in New York. We'd bake a dozen cakes at a time. With my mother, we sat and created ideas. To this day, we enjoy doing it."
French panache
At LaGuardia College he learned how to run a business, but Michał felt this wasn't quite it. "I decided to follow my passion with no regrets. I thought more and more often about becoming a pastry chef," he recalls. "That's why, after graduating from LaGuardia, I said to myself that I'd either continue my education in this direction or look for something else altogether." Two schools were an option - the Culinary Institute of America in upstate New York and the French Culinary Institute in Manhattan. "I preferred to be closer to home and decided to go to the French Institute," he says. "I really liked their pastry program they offered."
And it is this program that Michał relies on to this day.
"Studying at the French Institute was pure pleasure," he recalls.
Thanks to the school's relationship with French patisseries, Michał was able do internship in France.
"I decided to go, even though the internship was unpaid and I still had to cover accommodation and food. But it was worth it. I was based at the Mediterranean Sea, to Beziers, near Montpelier, on the border with Spain. I spent 18 months in the Maisone Carratie patisserie, gaining experience and honing my skills. I adapted quickly to the new environment. After just a few months, I was communicating quite well in French. I had no choice, really, because only my boss spoke English as he was almost never there and the rest of the staff only spoke Spanish or French. To this day, I have very fond memories of my stay in France. It was a great time in my life. I met many wonderful people, made friends with my boss, traveled with him to France and Spain, learned a lot and visited a lot of interesting places."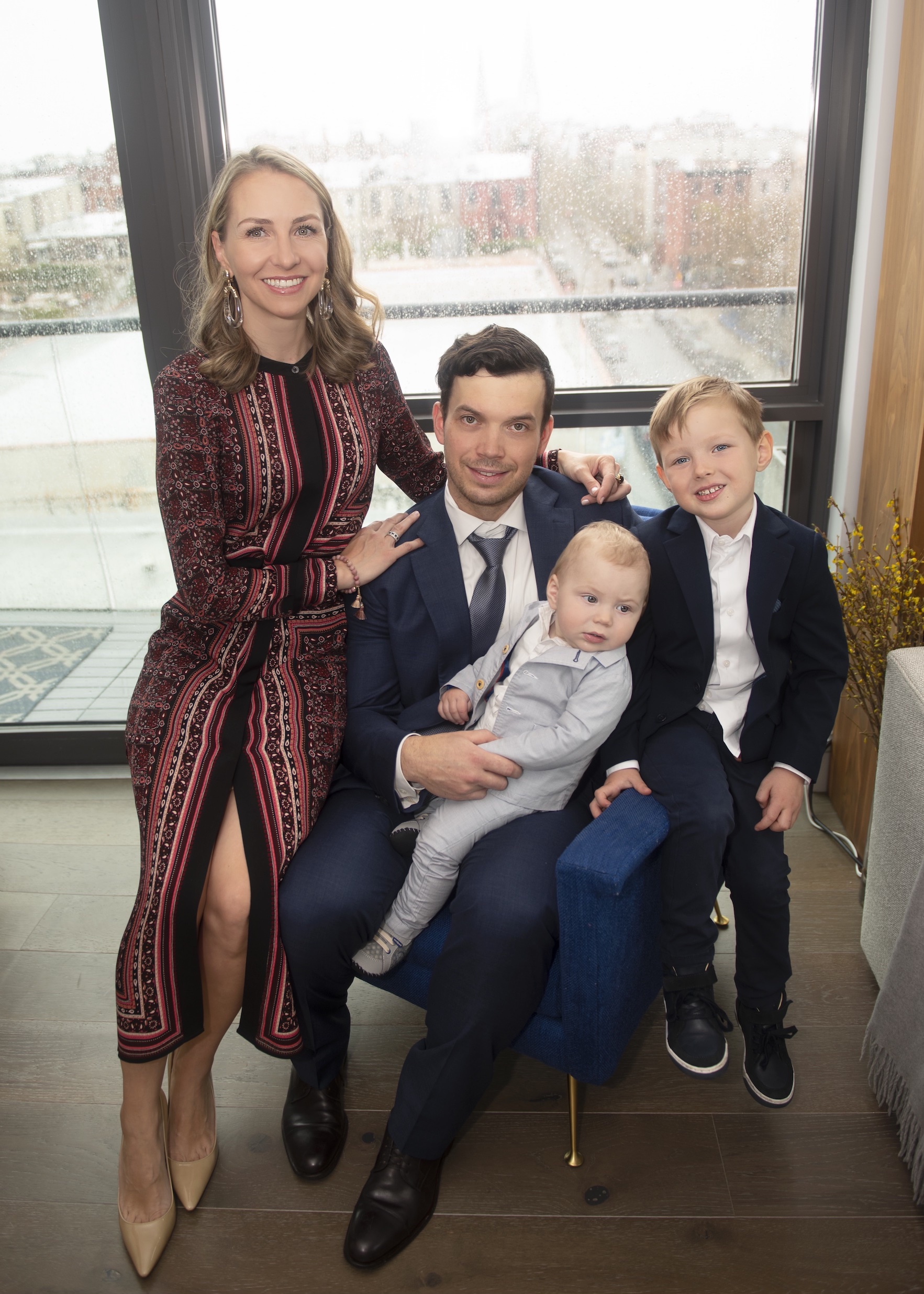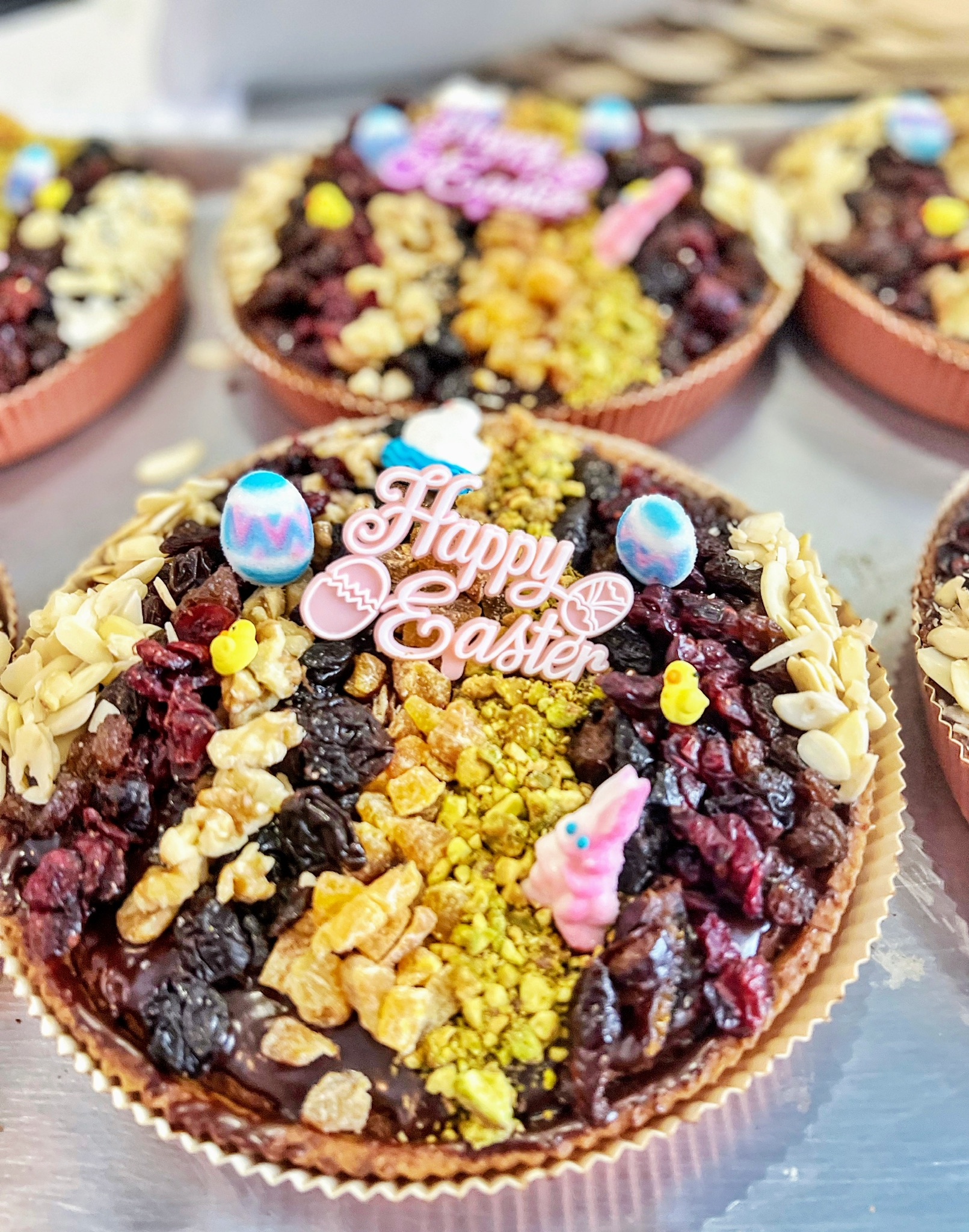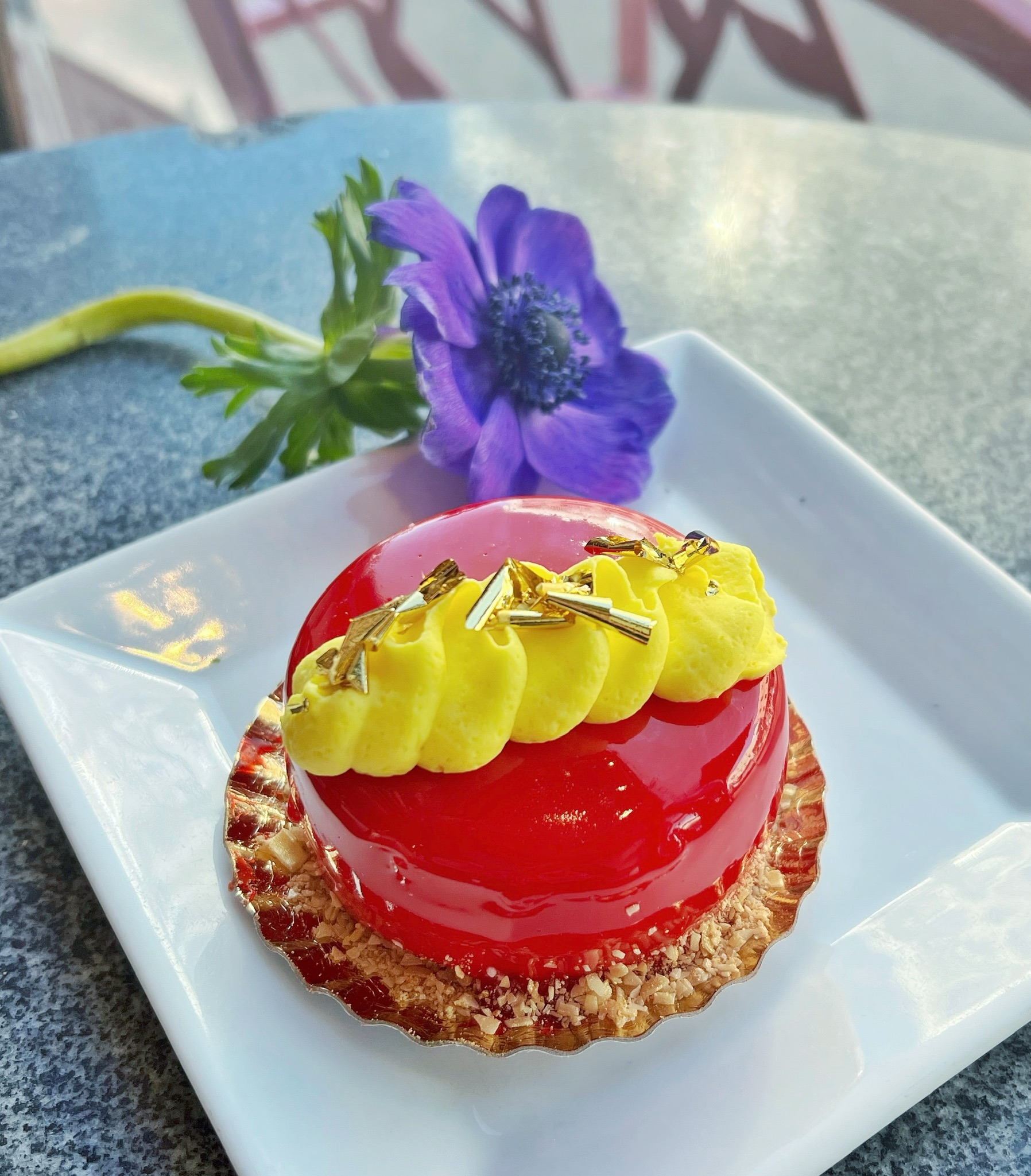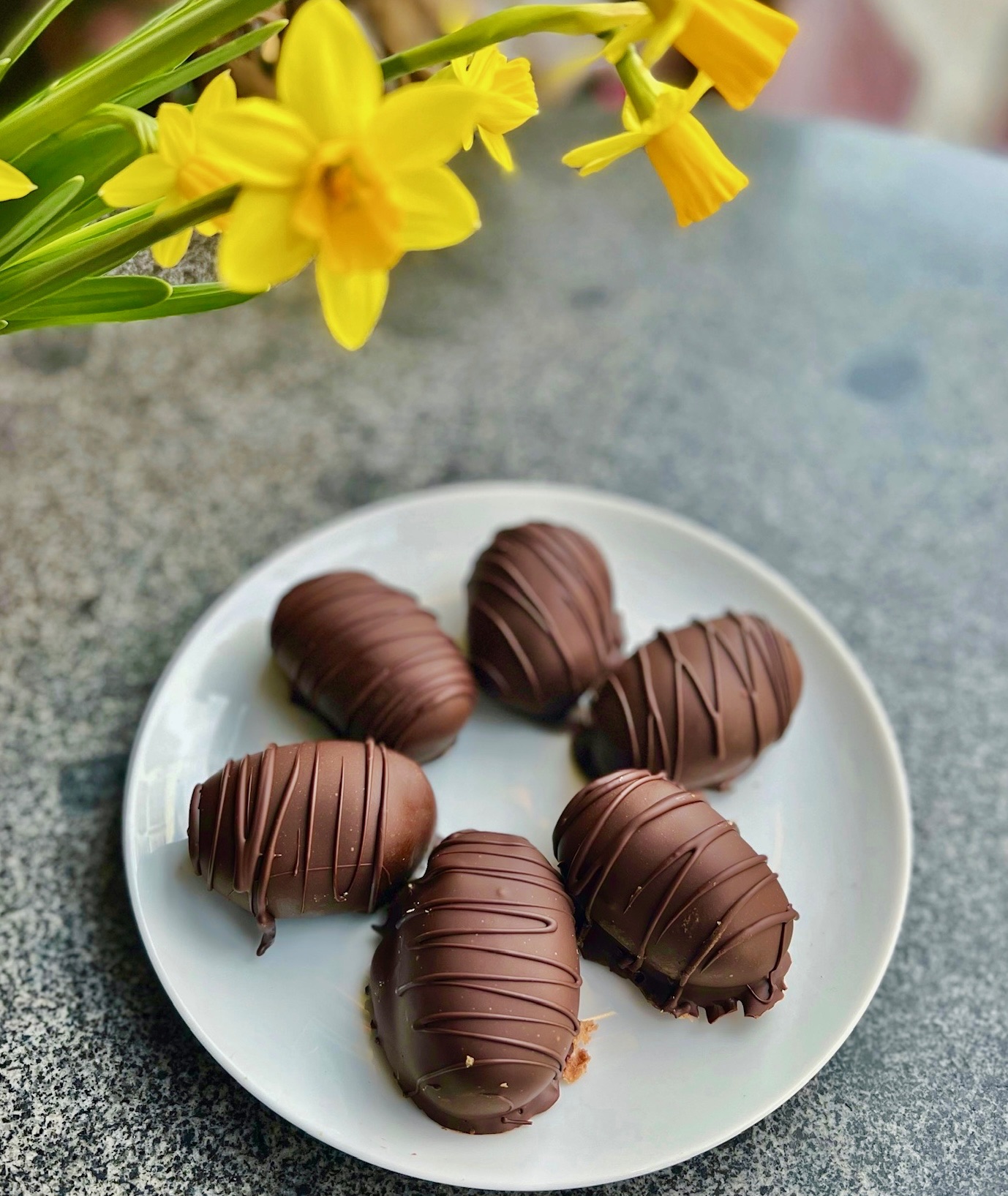 Is a patisserie on the cards?
When Michał finally returned to New York with his new experience and skills, he found it hard to see where they could be used. Not because there was no work but the wages were pitifully low.
His sister Magda came to the rescue. Seeing her brother's dilemmas, she had idea:
"Maybe we should open up our own patisserie?"
A property previously leased by the All State Insurance Company has vacated on Manhattan Avenue. Michał decided it was time to build something of his own and just went for it. "I wouldn't have been able to do it without my sister," he says. "She took care of the administrative side of our business, and I took care of the renovations, helped by my family and friends. But the biggest challenge was the kitchen and the one in our new place was the size of a small bathroom. Somehow, we dealt with it and I was glad that our vision became reality. Michał had another vision, though.
"No pastry shop can be run without coffee," he says. "So I went to Portland and completed a prestigious barista course.
Because Charlotte is as sweet as apple pie
"With my sister, we wondered what to name our new adventure that would work in French and Polish," reveals Michał. "I knew that in France there are many cakes called "Charlotte" and in Poland apple pies are called Charlotte. So we came up with "Charlotte Patisserie", opening its doors in 2011.
The patisserie offered a large selection of cookies, desserts, cakes, and coffees. The place drew people in with its French name and stood out from others in Greenpoint. Despite great beginnings, Magda and Michał knew that it was too early to talk about success. All efforts had to be focus on the development of the patisserie.
"I must admit that at the beginning I have never worked so hard in my life," recalls Michał. "I got up around 3:30, I was there at 4:00, by 7:00 freshly baked goods had to be ready, and after all of that I stood behind the counter and served coffee. I wanted to get to know our clients so that I could create a place they would be happy to come back to. I wanted to share my passion. It was our clients who gave me strength and energy. We learned from day to day how to quickly solve problems, how to deal with larger orders and purchases, not missing a bit, we gained experience and month after month we did better and better. After two years, we had regular clientele and queues for our baked goods. And then we wanted to do more.
After six months, Tomasz Plocha, a skilled pastry chef with experience from renowned patisseries in Poland, joined the team. With his knowledge, skills and passion, he is Charlotte's co-creater.
Two years after opening, the venue expanded significantly, as a neighboring place had become vacant and Michał jumping at the opportunity. It meant another renovation, but they took it in their stride. During this period, Charlotte Patisserie continued to operate and soon expanded its offerings thanks to the new, spacious and comfortable kitchen.
Works of confectionery art
Upon entering the premises, customers can experience the delicious mix of aromas of sweets, chocolate and coffee. Behind the glass counters, pieces of confectionery art are tempting. Cookies and cakes are so beautifully presented that one hesitates to stick a fork in them, each with a unique taste. Heaven!
The café is known for its motto: "All pastries are handcrafted on site, in authentic French style, using only the finest ingredients."
"From the very beginning, I wanted my products to be perfect. It took a long time to finally bake that perfect croissants. I follow the French style but I don't do anything I don't like. I often get asked why I don't make this or that. Of course, we listen to our customers. Cookies have been on offer from very beginning of our business, but from time to time we create something new, "Michał reveals.
Although Greenpoint is no longer the "Polish district", the Polish spirit still lives on and many compatriots come from other districts. That is why there is no shortage of traditional Polish pastries, but they are made seasonally - donuts during the carnival and, of course, on Fat Thursday, little cakes and cheesecakes during the Easter season.
The staff say the Duet dessert is everyone's favorite. It is a perfect combination of white and milk chocolate mousse with a crispy nut cookie. It's become Charlotte's flagship dessert.
Not just sweets
Nowadays, the café offers breakfast, brunch and lunch. At the beginning, apart from sweets, you could order sandwiches, but only two types. Since the larger kitchen was built, Charlotte has also been offering delicious cooked meals. The menu includes omelettes, quiches, French toast, several types of sandwiches, including Croque Monsieur with a wonderful béchamel sauce. There is also a burger and soup of the day. Salads and fries are served with everything. However, Michał has no plans to open a typical restaurant.
"I prefer to bake than to cook," he admits. "But we do cater for private events. I arrange the menu myself because I like my dishes to be unique. I like to play with new flavors. Cooking is a challenge for me and when I know that we have an order, I spend several nights thinking about what I need to prepare, I like to think carefully about the menu, review various recipes. And then I cook.
Famous and less famous clients
The services of Michał and Charlotte Patisserie are often used by the Consulate General of the Republic of Poland, the Polish Mission to the United Nations, members of the Pulaski Association, and the Madison Square Garden auditorium. He even baked for President Andrzej Duda during one of his visits to New York.
Charlotte Patisserie became famous in October 2018. Michał made a birthday cake for Kelly Ripa's 48th birthday. She is the actress and host of the talk show "Live with Kelly and Ryan". The huge cake, shaped like a peanut butter and jelly sandwich, clearly touched the birthday girl. Ryan Seacrest, the co-host of the talk show, ordered this cake because "peanut butter and jelly sandwich" is Kelly's favorite. Of course, chef Michał also appeared on the show, making his Greenpoinc patisserie famous across New York.
Charlotte's customers come from Greenpoint and elsewhere
"At the beginning lots of French people came here because they were attracted by the French name, says Michał. "Poles learned about us from Polish newspapers. People would come to have a look, have a cup of coffee, eat a cookie. They liked it and spread the word that a nice, new place has opened, offering different pastries."
With time, orders for occasional cakes started coming in - for birthdays, baptisms, communions and all other occasions. Like other pastries, cakes are masterpieces here. Attention to every detail makes it difficult to take your eyes off them.
Pulaski Association of Business and Professional Men members eat here regularly.
"I met them as they enjoyed their coffee and cookies here," says Michał. "At that time, Artur Dybanowski was the president and one day asked me if I would like to join the organization. It was an honor. I learned what they did, I liked what Artur did. This year, Grzegorz Fryc took over. Thanks to the Pulaski Association, I became more recognizable among the Polish community.
After more than 10 years, Michał is sure that he is on the right path and feels happy with what he has achieved. Still, he has many plans.
"I dream of the Charlotte Patisserie network," he reveals. "We have two locations so far - Greenpoint and Brooklyn's Cobble Hill. The restaurateur Norman Brinker said, "If you love what you do, you will never work a single day in your life." I love what I do.
Text: Iwona Hejmej
Translation : Polaron Services
Charlotte Patisserie Café...
... come and enjoy our handmade cakes and cookies in true French style, best with our delicious coffee or a glass of wine.
The café also serves breakfast and light lunches.
Chef Michał takes orders for occasional cakes that look like culinary works of art.
We can also prepare unique catering for your event.
We are at two locations:
596 Manhattan Ave
Brooklyn, NY 11222
tel.: 718 383 8313
and
201 Court St