Mariusz "Harry" Konopka is the owner of a five star rated Harry's Contracting Company
Published May 6, 2023
Mariusz "Harry" Konopka has been running his own construction company, Harry's Contracting Inc. for the past 10 years with great success, earning five stars in the rankings of the Yelp portal.
- I pay a lot of attention to the quality of my work and I'm pleased with the satisfaction of the people for whom I work - says Mariusz. - I have a list of regular clients, only entrusting me with work in their properties, no matter how long they have to wait for a date to start the project. This fills me with pride, because it is proof that I fulfill my duties reliably. This native of Grajewo in Podlasie, a vigorous almost 40-year-old man, is a food technician who dreamed of a military career. When that didn't work out, he decided to try his luck in America. His Uncle helped him take first steps in new land.
To return or to stay
- When I landed on U.S. soil in the summer of 2004, I was only 19 years old - Mariusz says. - I flew to visit my uncle, who had already lived here for a decade. We were close and I often spoke to him on the phone. He urged me to visit him. He told me how wonderful it was in America, spreading the prospects of high salaries. I was young, just out of school, just looking around for a job. When I calculated how much I could earn in the States and how much in Poland, the prospect of leaving sounded extremely tempting. Besides this I found out that I did not make it the army, so I decided to take the opportunity and fly to New York. I just made sure that my uncle would definitely help me and set off across the ocean. I decided to go for a short time, as usually every tourist decides. I wanted to see for myself what it's really like in legendary America.
The six-month stay allowed by the visa flew by like a whip. It was like a blink of the eye and Mariusz again faced another decision - to return to Poland, extend the stay or maybe just stay.
- I wrestled with my thoughts for a long time - he recalls. - Every day I made a different decision. In the end I came to the conclusion that I would stay, because I could already see prospects for myself. My parents urged me to return, but eventually they came to terms with my decision. They and my brother had already visited me here several times and liked what kind of life I had built for myself.
Work, sleep and work again
Asked about the beginnings of his American adventure, Mariusz makes no secret of the fact that it was hard. The truth is that immigration is never easy.
- I left my whole life in Poland - he says. - Parents, friends, acquaintances. The first few months were the worst. I missed them all a lot. I spent hours on the phone. Here I had no one except my uncle. I tried to find some company, but the work I was doing consumed almost all my time. My uncle and I would leave for Connecticut at 6 a.m. and get home around 8 p.m. or 9 p.m. Just getting there took about two hours and the same amount back home. In addition, I was working six and sometimes even seven days a week, so I didn't have time to go anywhere to meet people. It was constantly just working and sleeping. It was real toil. I kept doing it, though, because I didn't really have a choice. I knew neither the realities of this country nor the language. Fortunately, I worked with my uncle, the team at the company was friendly, and it was run by an honest, fair boss. And it was possible to speak Polish.
- My lack of not knowing English soon began to annoy me. Especially when I went to the store. I couldn't ask for bread, milk or eggs and would leave without shopping. Unless those purchases were made in Greenpoint, where I lived for a while.
These inconveniences and the decision to stay in New York for an extended period, caused Mariusz to start learning English.
- My work schedule plus commuting was so time-consuming that I had no time to go to school - he recalls. - But I insisted that I would learn anyway. I started with radio and TV, listening and watching everything exclusively in English, even when I didn't have the energy to do so. At first, watching a movie, I guessed more what the plot was about and picked up single words. Then newspapers and books came along. Until suddenly I just started to understand and speak. I am self-taught, by the way, not only in learning a language, but also in many other areas. Today I speak English freely. In fact, I have no choice. I run a business, most of my clients are English-speaking and I use the language every day. I also try to learn something new every day. I call it polish my language skills.
Food technologist on a construction site
Mariusz admits that he learns new things with ease - whether it's learning at school or learning practical construction principles. He flew to New York right after graduating from the Food and Housekeeping Technical School with a degree in hospitality and travel services.
- Immediately after arriving, I had rather no options of what I would like to do, I had to take what was there and what my uncle could help me with - says Mariusz. - And since he was working for a construction company, which he pulled me into, I began to learn about the industry. I concentrated on carpentry, because I like working with wood. When my boss found out what school I graduated from, he asked why I was a carpenter. I laughed and answered him: "Because in order to cook for yourself, you first have to build a kitchen."
Intense work, a period of adjustment to life in the new reality, meant that Marius did not have time to think about whether he could find employment in his learned profession after all.
- I didn't translate the certificates and further deepen my knowledge of nutrition, and maybe that was a mistake - he reflects today. - I could have gone on to some culinary school, or to work in a restaurant or hotel. I realize that it's never too late to learn, but I'm already steeped in my business. I've been in the world of general construction for almost 20 years. And I don't want to brag, but I know quite a bit about it and I know a lot of things, so maybe one day I'll build myself a restaurant and become a chef - he adds with a laugh.
Grandma's kitchen
The love of cooking, which translated into the later decision to choose a school, was instilled in little Mariusz by his beloved grandmother.
- For several years I lived with her in the countryside - he recalls. - And as it is on a farm, there was always something to do, especially during the harvest. I never shied away from helping with the work. I gladly helped my grandmother with whatever I could. She enjoyed my company in the kitchen. We talked about my childhood problems, and since I couldn't sit idle from a young age, I did whatever a little kid could do. I started with simple things like peeling carrots, potatoes, cutting onions or other vegetables. In time, I was able to cook a whole dinner by myself. And when I had to choose another school after graduating from elementary school, it was the culinary field that I was looking for. I loved to cook, which made my parents happy, because when they came home from work there was a fresh, homemade dinner waiting for them.
With the ease of learning new things quickly, Mariusz has no problem multitasking. He taught himself construction and all that goes with it.
- It somehow comes so naturally to me - he says. - In addition to carpentry I'm able to do plumbing or electrical work myself, but unfortunately I don't have a license for that yet, I can lay floor tiles, paint and many other things. When it comes to construction, I'm interested in literally everything, and I love doing it. I feel a little sorry that as the company grows, that time for work is getting less and less, because I have to go to meetings with clients or interior decorators, make appraisals, check plans, but as soon as I have time, I go to the current project, put on a belt, take drills and work with the guys. Not only to help them, but I just enjoy it.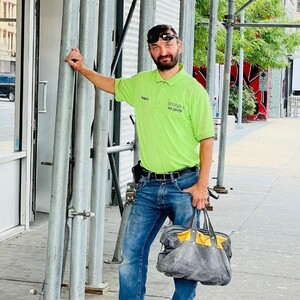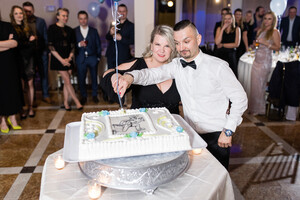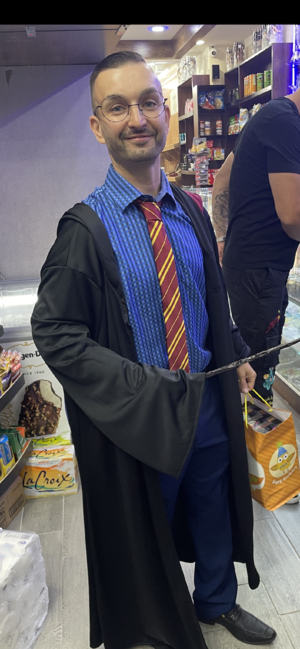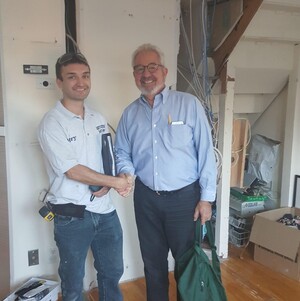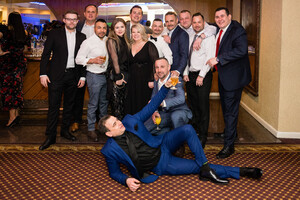 He was not afraid of hard work
Mariusz was not frightened by the prospect of having to work hard on construction sites in America. On the contrary. He was young, curious about the world and liked challenges, his brain absorbing like a sponge any novelty.
- The company where I worked with my uncle was engaged in building houses from scratch - he says. - I spent three years in it, and that's when I learned the most. But working in construction was not entirely foreign to me, because my father in Poland was in charge of laying and sanding floors. When I was still a teenager, I began to help him with this, because this way I could earn money for my needs. Thanks to my dad, I gained skills and respect for money. "You want to go to out the club, then come to work with me and earn money for yourself, and then you'll see how hard it is to spend it." - he used to say.
Being able to lay floors gave him confidence, because by getting hired by a construction company, he could say with all sincerity that he already had some experience.
Marius liked his first job. He became close to the people, gained a lot of experience, and learned the profession of a builder. Besides, he was making good money and there was a really friendly atmosphere in the company. But he wanted to experience New York, he wanted to enjoy life.
- The four hours a day wasted on commuting and the hard work only allowed for vegetation - Mariusz recalls. - And life wasn't waiting, it was running fast. Once I got to know people, I started asking about other employment opportunities. Many were surprised that I wanted to commute so far every day.
Although he was afraid of change, he felt it was inevitable. And he got hired at another company.
- I moved from exterior construction work to working inside - he says. - But I also did work on frame structures. First wooden ones, and then also metal ones.
Mariusz worked in a few more companies before opening his own business in 2013.
First the accident, then the company
He made the decision to open his own business when he was recovering from a dangerous car accident, following which he had to undergo spinal surgery. Serious enough that four screws had to be put into his spine and a platinum disc installed.
- I stayed at home for eight months - he recalls. - I was not allowed to lift heavy things or work in such a difficult industry as construction. It was a tough time. I was living off my savings, which were melting fast, and I had no income. I knew I had to do something.
Since Mariusz is a man of action, he did not feel sorry for his fate, nor did he fall into depression. He used the forced stay at home to come up with his own business.
- I found that I was already able to do a lot, and what I was doing for others, I might as well do for myself - he says. - I was 30 years old, I knew I was in my best years, I believed in my abilities and in the opportunities America offers. In this country, if a person is operative and communicative, and I consider myself to be such, one can do a lot. I was not afraid of the challenge. I had my vision, I looked ahead. I have always been quick to make decisions, although not always the right ones, but I don't like to hesitate. This time it was a long shot, but worth trying.
First assignment
Marius was so confident in his skills and experience that he decided to take a chance. He opened his own construction company, which at the beginning did not bring him too much money.
- I was able to hire only one person and had an old car from which the wheels were almost falling off, but that was all I could afford at the time and I knew I had to make do with what I had. To be honest, I jumped into the river and just learned to swim - he recalls with a smile. - Registering the business, was the easiest part of starting my own company. It takes patience to find customers and network, get orders, sign contracts, and do paperwork. I knew the work, but not so much about running a business. I didn't even know exactly what prices were on the market, so I did my first jobs for ridiculous money. However, I knew that a new name, which no one knows, was entering the market and it would be necessary to break through. I didn't have any recommendations, and yet most people rely on them or recommendations from friends. But deeply inside I felt that everything would work out. And luckily, thanks to the positive recommendation of a friend, I got my first order. My clients had bought a house and needed a bathroom renovation. I did this first project very carefully, I did everything with the utmost precision. I wanted to fully satisfy my clients, because I realized that only in this way I would be able to get some recognition. If they are satisfied, they will recommend me further. I couldn't botch anything and damage someone's apartment. That could end up in court and after the first order I would have to close the company.
Mariusz's principles of doing top-quality work stick from that first order to this day.
- Customer satisfaction is the most important thing for me - he claims. - But we are only human and mistakes and errors happen. If I know that I actually made them, I have no problem going back and making corrections. I don't argue with clients, I don't accuse them of lying. Customers like us for the fact that we don't squirm when something is wrong and we don't pretend it's not our fault.
Good ratings
Harry's Contracting company Mariusz began promoting the company on the Internet.
- I had to let people know, including potential clients, that my company was on the market and that I was willing to work - he recalls. - I relied on the Angie's app. I paid a subscription, and they searched for current orders. I had to contact the client myself and discuss the details. I was impatiently waiting for these orders. Whenever I got a notification I immediately called. Such notifications were received by hundreds of companies using the app, so on a first-come, first-served basis, I acted immediately. Customers wrote feedback about my business and the work I had done, and I collected points. Everything was beginning to take off.
Today, Harry's Contracting is registered on Yelp, which is a popular opinion aggregator. The app allows consumers to rate and post reviews of businesses.
- 80% of my customers come from Yelp - says Mariusz. - I can boast that my rating is 4.5-5 stars. I'm very happy with that.
The biggest dream
Mariusz's company mainly focuses on interior finishing, but not only. It offers floor laying, plumbing, electrical services, concrete and masonry, damage restoration, general home repairs, roofing, window and door services, demolition services, kitchen renovation, including kitchen cabinet installation, gas line services, heating and air conditioning, and interior painting.
- With my team, I would be able to build a house from the foundation - Mariusz says proudly. - I'm a licensed general contractor, which means I can take on any home project, but if I decide to take on a job from start to finish, meaning with plumbing and electrical, then I hire licensed subcontractors. As of today, my company has four licenses. We offer our services in all five boroughs of New York City and Long Island, including the East and South Hamptons.
- I also have this dream - he confides. - And I hope that God will help me to fulfill it and that I will have enough strength. I would like to build a 15-20 story building with my team.
There's no room to be sloppy
In a decade Mariusz, thanks to his solid work, has developed the company so well that he no longer looks for clients because he is too busy.
- I have so many orders that I have to refuse to take more, because I don't want to overload the company or do the work carelessly, because I would tarnish my reputation with that. Currently, the waiting period to start a project is three months. I'm happy about this, because it proves that we are reliable. The clients, who are as diverse as New York, praise us, as you can read in online reviews. Their satisfaction is also proved by the fact that when they have something new to do, they turn to me. Their confidence is also inspired by the fact that I don't change employees often.
Today Mariusz employs 10 people on a permanent basis. He stresses that this is a proven team and he enjoys working with them.
- Some have been with me for six years, the youngest in seniority has been working for 1.5 years - he says. - Ethnically, the group is mixed, as there are Hispanics, one Ukrainian, three Poles. When I take someone on, I look at what experience they have and whether they work reliably. I assess the skills myself - if I hire a carpenter, he has to show me that he knows carpentry, if a painter - he has to know painting. My people are close-knit, I trust them and know I can count on them. Since I consider myself a non-conflictual person, so I don't allow arguments or even minor disagreements. But when they do happen, we solve them together. That's why I hold meetings once a month where we talk about what's going on in the company, what we need to improve, how to solve conflicts. The atmosphere between people is an important issue. Disagreements affect the quality of work. And after all, we spend more time with each other than with our own families. That's why I ask them to report any problems to me, and not to argue among themselves. I believe that everything can be discussed and resolved as befits adult people, after all, we are not in a kindergarten. Fortunately, conflict situations are few.
Marius organizes a Christmas party for his employees every year.
- It is a family event with bonuses that I hope show appreciation for their work and commitment - he says. - The wives and partners of my people are also invited.
And this year the company's employees and invited guests enjoyed themselves in the beautiful interiors of the Terrace of the Park banquet hall in Queens to celebrate the 10th anniversary of Harry's Contracting.
Arianna - super office manager
It's no secret that the smooth operation of a construction company depends on good office organization. And this is where Mariusz Konopka's super assistant Arianna enters the scene.
- She is the only woman in my team - says Mariusz. - She takes care of all organizational matters and I couldn't have chosen a better person. She prepares all the documents, whether tax or contracts and keeps track of them, talks to clients, sets my schedule, she has my calendar at her disposal. Thanks to Arianna, I don't have to worry about anything office-related. I have peace of mind because I know she will write everything down, remind me of everything, and I can operate without stress. We meet every morning and discuss the day's plan, make orders, discuss projects and answer customer questions.
I am responsible for what happens in the field, i.e. distributing work among people, guaranteeing the materials needed for the job, talking to architects and interior designers. My day starts at 6 a.m. and ends around 8 p.m. or 9 p.m. But I'm not complaining, because I love my job and go to work every day with a smile on my face. I am passionate about what I do.
The glasses are gone, the nickname remains
Not everyone knows why Marius is addressed by most people as "Harry." This name has even found its way into the company's name. There is a rather funny story behind this nickname.
- After 1.5 years of my stay in the States, a schoolmate of mine came to visit - Mariusz recalls. - Once he had settled in he invited me to his place for a housewarming party. I was very eager to go, as it was an opportunity to meet up with my buddy and meet new people. Importantly for the story, at the time I wore glasses that looked identical like Harry Potter glasses, and the series of movies about the adventures of the young wizard was a hit at the time. The party was booming, the conversations were getting louder, everybody was relaxed. Next to me sat a buy I didn't know at the time, but today he is my friend. He kept staring at me so intensely that I felt uncomfortable. Finally, I couldn't stand it and spoke up: "Listen, I don't know you, I don't know what your intentions are, or what's in your head, but I'm straight. You making me very uncomfortable. Just stop looking at me like that." He immediately began to deny it: "No, no, it's nothing like that! I'm looking at you like that and looking at you..."
"Well, and what do you see?" I asked. "You will be Harry Potter."
"Oh no!" - I exclaimed. But everyone who heard this exchange of words looked at me and burst out laughing. And so I became Harry. During that party, whoever took a phone number from me entered me in contacts under that very name. After that, I was already introducing myself as "Harry," which was also easier for American customers to pronounce. I was wearing those glasses for a long time, until I had an operation that removed my vision defect and now I don't need glasses at all, but the nickname remained.
Happy with his life
Privately, Mariusz is in a relationship with Veronika, who comes from Slovakia.
- We met at a ball celebrating the Pulaski Parade last year and fell in love very much - he admits. - Veronika is the office manager of an insurance company owned by Marcin Luc, also a member of the Pulaski Association. Our joy of being together is enhanced by the fact that in a few months we will welcome our child into the world. I don't think I need anything more to be happy. After almost 20 years of living in the States, I find that I have reason to be happy. I have a wonderful family, a thriving business, and I can't imagine that I would now have to leave that and return to Poland, where I would have to start all over again. I'm turning 40 this year, and I plan to stay in America and continue what I'm doing.
Mariusz feels deep ties to Poland, which is why he supports Polish culture and often sponsors Polish concerts, young athletes, Polish schools. He has also been a member of the Pulaski Association since last year.
- I knew the organization much earlier and observed its activities, I knew what they do, I had the opportunity to be at one of the Man of the Year ceremonies - he says. - When Grzegorz Fryc, whom I have known for many years, became president, he told me more about the association and encouraged me to become a member. I'm happy about it, because it's a good organization, with good assumptions. I can help more thanks to it, and I do it willingly, because people have helped me in my life too, when I was in need. I believe that good always comes back. Sooner or later we will have to leave this world, but something good is worth leaving behind.
Iwona Hejmej
When it comes to renovation, do it only with Harry's Contracting
60-17A 56th Road Suite B
Maspeth NY 11378
Phone: 929 350 6797
Fax: 718 744 2022
E-mail: harryscontracting@aol.com