Man of the year 1968
Vincent Brunhard, Sr.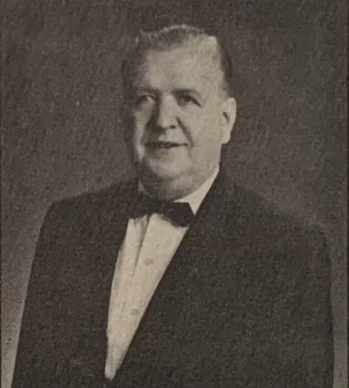 The Pulaski Association of Business and Professional Men, Inc. is proud to present a truly great Polish American citizen as our "MAN of the YEAR of 1968" - Vincent Lawrence Brunhard, Sr.
Vincent Brunhard was born in Jersey City, New Jersey. Although he was born in the U. S. A., he spent eleven years in Poland, and received most of his education there. He returned to his native land in 1931, and continued his education. While attending school, he worked in various fields in order to obtain a solid foundation for his future success. A few years later he met and then married Harriet, nee Sypniewski, and resided in Queens. In 1944 he went into the bakery business, and started to ascend the ladder of success, which was a very difficult task. Five years later he, and his wife acquired the present location at 144-150 Greenpoint Avenue, Brooklyn, and continued to progress with Ampol Baking Company which became a highly successful business enterprise. In 1960, with Vincent Jr., he entered the catering business, which has since become the largest and most beautiful catering hall, known to all as "POLONAISE TERRACE".
Vincent attended the American Institute of Baking, and the Culinary Art School to aid him in the progress of a business. Throughout the years, despite the pressing demands of his firm's executive duties, Vincent has always found time to participate with untiring zeal in behalf of both American and Polish humanitarian goals. Many others feel that by monetary donations they fulfill their obligations to society, but for Vincent this was not enough. Although his many philanthropic contributions have been and are generous, his work and co-operation with all committees have been, and will be more beneficial to all Polonia. He has been honored by many organizations because of his support of these causes.
Vincent has received citations from numerous organizations, among them; Polish American Sport Club "Warsaw" being both Organizer and President for many years, the POLISH MASTER BAKERS ASSOCIATION being President for ten years. He received a citation and medal from "THE POLISH SEA LEAGUE OF AMERICA", where he was the organizer and first Vice-President. The White Eagle Democratic Club cited him several times, being President for the organization for fifteen years. The Greenpoint Volunteer Ambulance Corps also cited Vincent for his generous support and co-operation in their endeavors. He is a member in good standing of The Polish National Alliance, Polish A merican Immigration and Relief Committee, Lexington Council K. of C., Lions Club of Greenpoint and The Kosciuszko Foundation. He was also a member of The Polish American Congress, Treasurer of The General Pulaski Parade Committee, and former Director of The Polish National Home in Greenpoint, and Director of The Boy Scouts of America. He has also supported many Polish American Youth Organizations, including Polish Dance Groups and Polish Edu cational Societies. The Polish Singers Alliance Groups here and abroad also benefited by his support. He is also a Charter Member of The Pulaski Associa tion of Business and Professional Men, Inc.
For many years Vincent has supported The Little League Baseball in Greenpoint. He was one of the sponsors of the first Polish Television Program in New York City and up to the present time supports the Polish American Radio programs.
Vincent also aided many Poles entering the United States by signing affidavits of responsibility and in obtaining employment for them.
Vincent is happily married to his lovely wife Harriet, and they re side in Brooklyn. They have a son, Vincent L., Jr., who is married to the for mer Sophie Orzechowski, and have a beautiful baby girl "Vivienne Bernadette". They also have a daughter Constance Frances, who is married to Robert Cerny and they reside in Nassau County.
To Vincent L. Brunhard and his family, our organization and all of his relatives and friends wish them the best of health and a happy and pros perous future. STO LAT !!!