Man of the year 1995
Vincent Brunhard, Jr.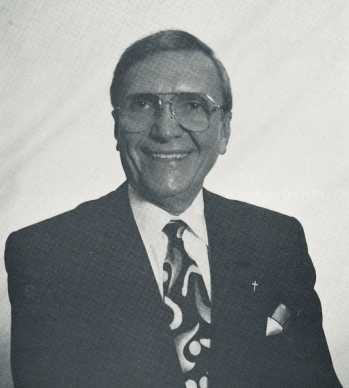 Vincent Brunhard Jr. was born in Queens on December 17, 1936 to Vincent and Harriet Brunhard Sr. He began his education at St. Gabriel's grammar school and after 7 years, his family moved to Brooklyn and he graduated from St. Anthony of Padua grammar school in Greenpoint. In 1954 he graduated from St. Francis Xavier Military High School in Manhattan and In 1958 he received a Bachelor of Arts Degree from Holy Cross College in Worcester, Massachusetts. He served in the U.S. Army Reserve - 77th Infantry Division from 1961 to 1966.
After graduating from the American Institute of Baking in Chicago, Vincent together with his father Vincent Sr., founded Ampol Foods, Inc., a small restaurant and catering business. In 1961, this operation moved to its present location on Greenpoint Ave. In Brooklyn, NY became known as the Polonaise Terrace. After more than three decades of specializing in American and Polish catering, the Polonaise Terrace has grown in size and reputation and is today considered to be one of the most elegant and finest dining establishments in the New York metropolitan area.
In 1972, the two Vincents opened the Chopin Theatre In Greenpoint, exhibiting American and Polish films and also stage shows from Poland until 1985. Vincent Jr. also opened and operated a Carvel franchise in Little Neck, NY from 1976 to 1981. In 1978, Vincent and his father opened the Press Box restaurant in Manhattan and Vincent continued that operation until 1990.
In addition to directing the operation of the Polonaise Terrace, Vincent Brunhard Jr. Is the immediate Past President and a member of the board of the Pulaski Association of Business and Professional Men, Inc., Executive Vice-President of the General Pulaski Memorial Parade Committee Inc.. President of the Greenpoint Pulaski Parade Committee and 1994 Greenpoint Marshal, Vice-President and National Delegate of the Polish American Congress-Downstate New York Division and a member of the Board of Managers of the Greenpoint YMCA. He is a member of the Polish Gift of Life, Kosciuszko Foundation, Greenpoint Lions, Ampola, Green Oaks Citizens Club, Consolidated Democratic Club and the 94th Precinct Community Council. He also served on the Metropolitan New York Polish Catholic-Jewish Dialogue Committee.
Vincent and his lovely wife Gloria were married on August 4, 1975 and are parishioners of St. Josaphat's R.C. Church in Bayside, NY. They are the proud parents of their daughters Vivienne, married to Mr. Russell Kandel: Joy, married to Mr. Paul Bagatta; June, married to Mr. Henry Bulakowski Jr. and son John. They are also the proud grandparents of Nicole and Danielle Bagatta and Laura and Jill Bulakowski and their daughter Vivienne is expecting her first child in June.