Man of the year 1985
Tomasz W. Poskropski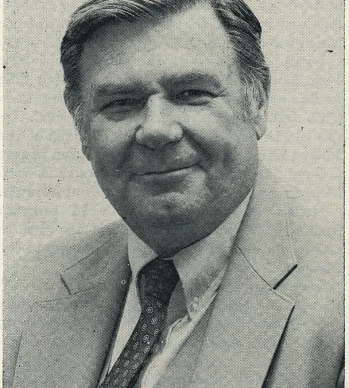 Tom Poster was called the Polish Prince long before Bobby Vinton came on the scene. It started in the 1940's when Tomasz Władysław Poskropski applied for a job as a sportswriter for the Greenpoint Weekly Star in Brooklyn He was turned down at first but when the sports on the newspaper was drafted in 1941, writer on Poskropski was told to start writing as much as he wanted about local sports events and he would be paid ten cents an inch for anything published. But, said the editor after an objection was raised that "No Polaks read English, so we can't have a Polish by-line."
And that's how Tops Nedrag was born, a pen name for Poskropski whose name could never be used as a by line. Tops Nedrag is Garden Spot spelled backwards. Poskropski, however, persisted to no avail. He always argued that Polish-Americans made up the majority of the weekly newspaper's readership but it wasn't until he compromised and agreed that his nickname "Poster" be used as his byline did Tops Nedrag disappear.
The weekly newspaper's staff then pinned their favorite expression on Tom Poster, their sportswriter, as The Polish Prince. He was a veteran by then, all of 16 years old.
Poster kept the by line and after a two year stint in the U.S. Navy, he returned to the newspaper to do a variety of reporting chores while attending college at night. As sports editor and a freelance writer for the New York Daily News Brooklyn section, then in its infancy, Poster formed the Greenpoint Baseball League and staged the first tennis tournament.
He joined the Long Island Star Journal, then the Long Island Daily Press, and worked briefly on the old Nassau Daily Review Star that was sunk by a new newspaper called Newsday. In 1950, Poster joined The Associated Press and continued covering police news and later covered LaGuardia Airport and Idlewild, which later became John F. Kennedy Airport. He scored a variety of scoops and once, during a blizzard, was the only newsman to report an airline crash on Rikers Island. He was the main subject of a book called Tiger On A Leash that was based on the crash.
While with the AP, he covered kings and queens, presidents and governors and later was City Hall Bureau Chief and Legislative Correspondent, assignments in which he traveled around the country with political candidates. In 1967, he joined the New York Daily News as political writer-reporter and served as Albany Bureau Chief covering the State Capitol. He has won the Silurians Award, the Newspaper Guild Page One Award and other journalism prizes. Always pushing his Polish pride. Poster has often been called the Polish Prince both in jest and in respect by a wide variety of Public officials. During his years in City Hall and in Albany, he showed his other side as an actor starring in the annual Inner Circle political lampoon at the New York Hilton and the Legislative Correspondents show in Albany. When he portrayed Robert F. Kennedy, the politician became angry at the lampoon. At another time, portraying Bella Abzug, the temperamental Bella cursed Poster from the audience and stormed out as some 1,400 guests applauded him. Later, Bella devoted four pages of her biography to explaining how insulted she was by the performance which was all in fun.
Poster was always in the forefront of New York journalism circles. He was the first Pole to become a member of the New York Press Club and its first president to be reelected. He was the first Pole to become a member of the Inner Circle, a 100-member organization of past and political writers who elected Poster its President four years after he was voted into its ranks.
He was the first to initiate a TV program from Albany for Channel 15 and the first to report on Long Island legislative matters for Channel 21.
Poster appeared on numerous radio and TV shows and currently is a regular on the nightly Daily News program on WOR and reports on People twice weekly on News at Noon at Channel 9. On all of his appearances, Poster boasts that he is Polish and does it because during his long career he has found anti-Polish discrimination almost everywhere. He has never carried over the deep personal hurt he has suffered since his early days at the Greenpoint Weekly Star. But, to combat in a small way these anti-Polish attitudes, Poster started the Polish American World more than 25 years ago, with the help of the fledgling Pulaski Association of Business and Professional Men. The weekly newspaper is subsidized by Poster who calls it a labor of love because it will never turn a profit. The reason is simple, he explained, because there is an anti-Polish feeling among major advertisers.
Before he started the newspaper, Poster covered the various New York parades on Fifth Avenue. He has marched in every Pulaski Parade on Fifth Avenue and before that in the Pulaski Parades that were once held in Brooklyn. To help the parade committee and its then president, Frank Wazeter, reduce the cost of publicity for the parade which then cost Wazeter $2,500 a year, Poster volunteered his efforts as a publicist. Wazeter accepted and paid Poster for out-of-pocket expenses. Along the way, Poster obtained the first television coverage of the Pulaski Parade, convincing Schaefer beer it was wise to sponsor the parade. When the telecast was changed to color in later years, Schaefer dropped the more expensive sponsorship and since then WPIX-TV has either carried the parade as a public affairs concept or by selling time to local advertisers.
In 1978, Poster was elected Grand Marshal of the Pulaski Parade. Ironically, while all his friends were looking forward to writing about. the Pulaski Parade and the first newspaperman in history to be Grand Marshal of any Fifth Avenue parade, the New York City newspapers went out on strike. It was the least covered parade ever.
Poster's devotion to Polonia, the Pulaski Parade and other activities have earned him awards from the Polish American Congress, the American Polish Association of Business and Professional Men of Long Island, the Kosciuszko Foundation's medal, and much more.
He likes to point out that the awards must always be shared with his most supportive wife. Helen, and their three children, Paul, Thomas and Susan, as well as their grandchildren including John Paul, named for our Pope.