Man of the year 1999
Thomas K. Wojslawowicz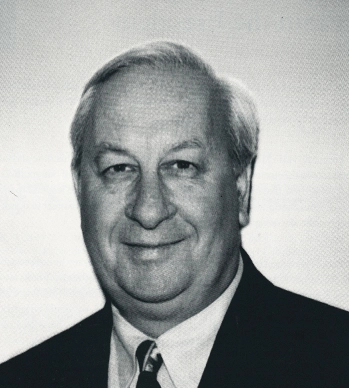 In any group of people, a small fraction will be leaders, a larger fraction will be followers and a substantial proportion just won't want to get involved.
Thomas K. Wojslawowicz is in that small fraction. He is a leader. He possesses the art of directing and guiding others. He is the ship that leads the way. Thomas K. Wojslawowicz is the President of the General Pulaski Memorial Committee, Inc., organizer of the annual Pulaski Day Parade. He is a chairman of the National Polish American Democratic Leadership Council. He serves on the Democratic National Committee Ethnic Leadership Council. He is a member of the Board of Directors of the Polish National Alliance of Brooklyn. He is also president of the Polish American Congress, Bayonne Chapter.
Thomas K. Wojslawowicz was born in 1943 in Bayonne, New Jersey. He graduated from Our Lady of Mount Carmel Elementary School in Bayonne. His high school years were spent at Saint Anthony of Padua Preparatory School in Watkins Glen, New York, operated by the Polish Franciscans of Pulaski, Wisconsin. He received a Bachelor of Science degree in Education from Seton Hall University in 1964. He is the coordinator of Aquatic Programs and Facilities for the Bayonne Board of Education.
Thomas K. Wojslawowicz is married to Donna and the father of Amy, a senior at Seton Hall University and Matthew, a senior at Bayonne High School.
Tom is the head coach of the Bayonne YMCA Mermaids-Starfish Competitive Swimming Team, which he organized in 1963. He is also head coach of the Bayonne High School Varsity Girls and Boys Swimming Teams. He serves as treasurer and membership chairman of the National Interscholastic Swimming Coaches Association. He is president of the New Jersey Interscholastic Coaches Association and chairman of the New Jersey High School Swimming Coaches Association.
Tom is chairman of the Bayonne Housing Authority. He is also president of the Bridgeview Manor Housing Corporation.
Tom Wojslawowicz has been honored with the "For Service To Youth'' Award by the Bayonne YMCA. He has been elected to the Bayonne Sports Hall of Fame as a contributor and coach. He was a member of the first class of inductees into the National High Schools Coaches Association Hall of Fame He was inducted into the New Jersey Interscholastic Coaches Association Hall of Fame He received the Gov. Thomas Kean Award of Merit for his work with the Garden State Games. The Polish American World honored Tom as its Citizen of the Year and the Pulaski Cadets awarded him Honorary Membership.
President John F. Kennedy told the story of "the leader in the French Revolution who said, "There go my people. I must find out where they are going so I can lead them." Thomas K. Wojsławowicz has found his people in many walks of life and he masterfully leads them.