Man of the year 1973
Stanley F. Debski M.D.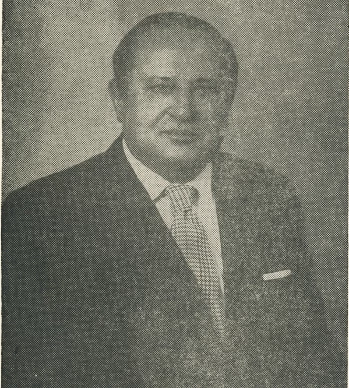 In recognition of his capable, diligent and enthusiastic performance, the Pulaski Association of Business and Professional Men, Inc. and Polonia share in honoring Dr. Stanley F. Debski as the MAN OF THE YEAR FOR 1973.
Dr. Debski is a true Brooklynite. Born in Brooklyn in 1912, raised in Greenpoint and Williamsburg and is now practicing medicine in Brooklyn. He is the son of Polish immigrants, Catherine (Koszalska) and Frank, who operated a thriving furniture business in New York City.
After completing local elementary and high school, he graduated with a Bachelor of Science degree from St. Bonaventure University. Subsequently, Stan earned his medical degree from Middlesex University.
In 1943 he was accepted as a volunteer for active combat duty with the U. S. Army. He served as a Medical Officer with the 17th and 82nd Airborne Divisions in the European Theater of Operations for 3 years.
His tour of duty included England, France, Belgium and Germany. An interesting human factor- he delivered a baby girl under combat conditions.
Stanley received a unit citation for action under fire and was the recipient of the Purple Heart. After his release from the Army as a Major, Dr. Debski took a residency in general medicine at Prospect Heights Hospital for one and a half years prior to opening his office in Brooklyn in 1950.
A year later, the happiest occasion of his life took place when he married Ann Bandurski of Allendale, New Jersey. This marriage was blessed with a daughter, Juliana, who is now a senior at Utica College.
Among the more important events in his career as a general practitioner, he delivered the much-publicized Carter Triplets.
Dr. Debski is a member of the Kings County Surgical Society, National Medical and Dental Society, Doctors Alumni of Prospect Heights Hospital and the Utilization Committee of Samaritan Hospital. He is the physician for numerous fraternal organizations and is also a member of the Polish National Alliance of Brooklyn.
Through his religious interest, he served as a Trustee at Our Lady of Czestochowa R.C. Church and was the Medical Director and supporter of the O. L. C. Drum Corps.
He has been on the Board of Directors for Prospect Hall for six years. The numerous facets of his service to the Pulaski Association of Business and Professional Men, Inc. include the following: Banquet Treasurer for most of the Annual Testimonials, Vice - President and Member of the Board of Directors.
Stanley Debski's formidable record of activity and achievements substantiates the decision of paying tribute to him today.