Man of the year 2007
Polish-American Travel Agents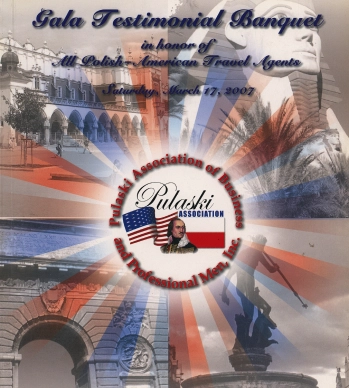 2007 President's Message
On behalf of the Pulaski Association of Business and Professional Men, Inc. tonight I would like to warmly welcome all of you, our guests and friends. This will be a special evening for all of us. Every year we honor an individual who has accomplished some extraordinary deeds and that person is then recognized by receiving the Man or Woman of the Year Award.
During this evening's banquet we will be honoring the whole segment of our community Polish-American Travel Agents from the Tri-State Metropolitan Area. They help keep strong ties between Polonia and our beloved homeland, its cherished traditions and rich culture. They sometimes open a path for our people to adjust and be absorbed into a healthy working society.
Polish-American Travel Agents have a positive effect on countless immigrants who start a new life in the United States of America. They greatly contribute to our reputation and touch the lives of so many immigrants to help them accommodate this new hard reality.
We should be proud of it, and believe that Polish-American Travel Agents also deserve special distinction. The Pulaski Association of Business and Professional Men congratulate all Polish-American Travel Agents this evening and would like to present the Certificates of Recognition for all your hard work for Polonia.
In closing, I would like to thank our Banquet Committee for all their time and energy spent in order to arrange such a successful event. My best regards to all our sponsors and advertisers for their financial support and generosity that enables us as the organization to advance Polish-American causes.
President,
Paul Pachacz
Slowo od Prezesa
Dobry wieczór Państwu.
W imieniu the Pulaski Association of Business and Professional Men, Inc. witam wszystkich zebranych gości i przyjaciół. Co roku nadajemy tytuł Człowieka Roku osobom wyróżniającym się w pracy dla Polonii i wzmacniającym jej znaczenie w USA. Obecny wieczór dedykujemy wszystkim związanym z branżą turystyczną, mianowicie, Polsko-Amerykańskim Biurom Podróży.
Ta właśnie grupa osób, w sposób nie kwestionowany przyczynia się do podtrzymywania trwałego związku Polonii z naszą Ojczyzną; podtrzymuje tradycje i polską kulturę w naszej drugiej amerykańskiej Ojczyźnie. Wielokrotnie są pierwszymi, którzy uczą i pomagają nowym emigrantom przystosować się i zaadoptować się w nowych, często ciężkich warunkach życiowych. Jesteśmy przekonani, że Polsko-Amerykańskie Biura Podróży w pełni zasługują na ten honor, szczególnie teraz, w czasach, w których rozwój techniki i technologii wypiera bezpośredni kontakt z Klientem. Są one przykładem przedsiębiorczości i pracowitości i na zawsze pozostaną łącznikiem między Polonią a Macierzą.
Dziękujemy Wam za to, że niejednokrotnie wskazaliście drogę nowo przybyłym emigrantom, nie zostawiliście ich sam na sam z ich problemami, brakiem ukierunkowania i informacji. I choć w przyszłości rozwój technologii będzie miał coraz większy wpływ na brak kontaktów międzyludzkich, jesteśmy przekonani, ze nigdy nie zastąpi kontaktu agenta podróży z potrzebującymi pomocy i infor acji Klientami.
Kończąc, chciałbym podziękować członkom Komitetu, którzy nie szczędzili czasu i energii, aby ten bankiet mógł się odbyć dzisiaj. Dziękuję również wszystkim sponsorom za ich finansowe wsparcie i tak znaczący udział w naszym przedsięwzięciu.