Men of the year 2016
Senator Raymond J. Lesniak
Adam & Malgorzata Skarzynski
Joseph R. Lentol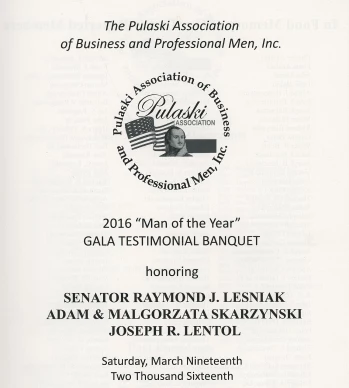 Senator Raymond J. Lesniak is a graduate of Rutgers University. (1971) where he received a B.A. Degree in Economics. He graduated St. John's University School of Law with honors receiving his Juris Doctorate Degree (1974). He was admitted to the New Jersey Bar in 1974 and served as Staff Attorney and Interim Director of the Office of Poverty and the Law, Department of Community Affairs. He is a Partner in the law firm of Weiner Lesniak in Parsippany, N.J.
Elected to the New Jersey General Assembly in 1977, Senator Lesniak served five and one-half years, being re-elected in 1979 and 1981. In his last Assembly term, he was Chairman of the Agriculture & Environment Committee. Senator Lesniak was elected to the New Jersey Senate in a special election in 1983 for a one-half year term and elected to a full four-year term beginning January 1984 and re-elected in 1987, 1991, 1993, 1997, 2001 and 2003. He served as Chairman of the Labor, Industry & Professions Committee, 1988-1991, and as a member of the Senate Education Committee, 1990-1991. He currently serves as Chairman of the Senate Economic Growth, Agriculture and Tourism Committee and member of the Senate Commerce Committee.
Senator Lesniak is the sponsor of the New Jersey Spill Compensation Act, the first fund in the nation to clean up hazardous waste sites; the $100 million dollars Hazardous Discharge Bond Act; the Safe Drinking Water Act; the Environmental Cleanup Responsibility Act (ECRA), as well as New Jersey's criminal laws regarding the collection, transportation and disposal of hazardous waste. The Air Pollution Control Act and the Pesticide Control Act were also sponsored by Senator Lesniak. Senator Lesniak ist d Chairman of the Union/Middlesex County Hazardous Materials Advisory Council is the founder and C (HMAC), It was established in 1981 to provide a vehicle for state, county and local governmental officials to work with industry and residents to minimize risks in the community and rapidly and effectively respond to hazardous discharges. HMAC is the designated organization to conduct yearly SARA drills for emergency response personnel.
It also provides training programs and seminars for emergency response personnel throughout the year. Senator Lesniak currently serves as a member of the Board of Trustees of the New Jersey Symphony Orchestra and Co-Chairman of the Union County Alliance.
Senator Lesniak was the New Jersey State Democratic Chairman, 1992-1993, and New Jersey Campaign for Clinton/Gare in 1996 and Gore/Lieberman in 2000. Senator Lesniak is Chairman of the Board of First Bank Americano, a community bank headquartered in Elizabeth, New Jersey. He is also the founder of a non-profit group called Democrats for the Soul.
Senator Lesniak is a member of the Polish Legion of American Veterans, Post 91 and the Freedom Club of Joseph Pilsudski.
In 1982, Senator Lesniak was named "Citizen of the Year" by the Polish American World.
In 1991, Senator Lesniak was named "Man of the Year" by the Jewish National Fund.
In 2002, Senator Lesniak was named "Humanitarian of the Year" by Community Access Unlimited for his legislative efforts on behalf of people with disabilities and for providing support to working poor families and the homeless.
In 2003 he was awarded "Legislator of the Year" by the Medical Society of New Jersey for working to make healthcare more affordable and accessible, expanding the PAAD low-cost prescription drug program to cover more seniors, and expanding cancer and diabetes research and education, Also in 2003, Senator Lesniak received the Phillip M. Scanlan Environmental Award for his contributions to improving the environment, awarded by Quality New Jersey, a not-for-profit organization that promotes performance excellence.
In 2004, Senator Lesniak was named Grand Marshal of the 67th Annual Pulaski Day Parade.
THE PULASKI ASSOCIATION OF BUSINESS AND PROFESSIONAL MEN, INC.
HONORING
ADAM & MALGORZATA SKARZYNSKI
with the Humanitarian Award
For Supporting Polonia & Polish Organizations
BIOGRAPHY
Adam was born in Bialystok, Poland, a city in the eastern region of the country, on December 24, 1956. Soon after Adam was born, his family moved to a small village nearby. Bialystok, named Bialosuknia Living in a small village surrounded by government farms that employed locals is where Adam's courage, hard work, and determination began at the young age of 12. It was then that Adam was the highest paid employee during the summer months and where he learned the most important lesson in life, hard work. This lesson is what shaped Adam into the person that he is today.
After graduating with an economics degree and his long term work ethic he arrived in New York City in 1984. After three years of adapting from communism to capitalism and providing for his family, he saw and took his first opportunity to start his own business, all while learning English on his own from watching television and tackling the Wall Street Journal.
After a few successful investments and many long days of work, Adam and his wife Małgorzata created Adam's European Contracting, Inc. in 1994. It is one of the many accomplishments that Adam has succeeded at and as the biggest one yet, Adam's European Contracting is recognized as one of the leading firms in New York as an award winning and growing company that specializes in the renovation of landmark and historic buildings, such as City Hall of New York and numerous public schools.
Adam and Malgorzata Skarzynski, through many years of living in New York, have been avid donors to the Polish community, as well as supporters of many other organizations and individuals. He was honored with a medal for his continuous support of the Wielka Orkiestra Swiatecznej Pomocy. Adam continues to support multiple Polish sporting associations, young beginners with sports dreams, and many more.
Adam, as an outdoor enthusiast, enjoys living in Greenwich, Connecticut and the serenity of spending time in nature as a way to escape his daily routines of everyday life.
THE PULASKI ASSOCIATION OF BUSINESS AND PROFESSIONAL MEN, INC.
HONORING
JOSEPH R. LENTOL
with a Lifetime Leadership Award
For his service to our Greenpoint Community and Polonia Joseph R. Lentol represents District 50 in the New York State Assembly, which comprises Greenpoint, Williamsburg and Fort Greene, among other neighborhoods located in the northern portion of the New York City borough of Brooklyn.
Biography
He was born on January 15, 1943, the son of State Senator and Supreme Court Justice Edward S. Lentol (19091981).
A member of the legislature since 1972, Lentol has served as Chairman of the Committee on Codes since 1992. He has also previously served as Chairman of the Committee on Governmental Employees and the Assembly Committee on Governmental Operations.
In 2000, he was one of two Assembly members chosen by Sheldon Silver and Governor George Pataki to serve on the Election Modernization Task Force. The following year he was elected by his colleagues to represent the Brooklyn Assembly Delegation and appointed to New York City's Community Action Board, of which he later became Chairman.
Prior to his election, Lentol served as an Assistant District Attorney within Kings County, In 2001, Lentol was elected by his colleagues to direct the Brooklyn Assembly Delegation, responsible for making decisions and advocating for funds and activities for all areas of the borough.