Man of the year 1966
Matthew Widlicki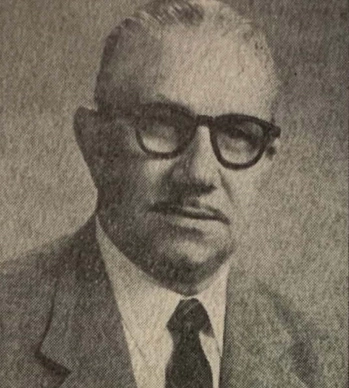 The Pulaski Association of Business & Professional Men, Inc. is proud to present a truly great Polish American citizen as our MAN OF THE YEAR of 1966 - Matthew Widlicki.
Matthew Widlicki was born and raised in Brooklyn, New York. He started life in humble surroundings working his way from menial jobs to become one of the outstanding men in the carbonated beverage industry. He firmly established the D & Z. Bottling Company as a highly successful business enterprise. He was Trea surer for many years and ultimately became President of the Metropolitan Soft Drink Board of Trade.
Throughout the years, despite the pressing demands of his firm's executive duties, Matthew has always found time and energy to participate with untiring zeal in behalf of both Polish and American humanitarian goals. Many others feel that by monetary donations they fulfill their obligations to society, but for Matthew, this is not enough! Although his many philanthropic contributions have been, and are, generous, his work and cooperation with all committees have been and will be, more beneficial to all Polonia. He has been honored by many organizations because of his support of these causes.
Matthew has received citations from the George Washington Post No. 3, P.L.A.V. for Veteran and Community philanthropies. He received a citation from the John J. Czachor Post 5806, V.F.W. for contributions to veterans and community welfare. The Polish Falcons of America have given him a citation for his support of their organization since 1923. Rada Oswiatowa gave him a citation for cooperating and supporting their endeavors. The Pulaski Association of the Police Department of the City of New York cited Matthew and made him an honorary member because he helped in organizing the Association and has supported them to this date. The John Smolenski Memorial Democratic Club cited Matthew by bestowing upon him their "Citizenship Award" for outstanding work in the community.
Matthew also received a citation from the New York City Police Department for contributing 5,000 hours in the Air Raid Warden Service during World War II.
For many years Matthew has supported Little League Baseball in Greenpoint and they, too, have given him a citation.
Matthew is a member of the Board of Directors of the Atlas Savings and Loan Asso ciation, member of the Board of Directors of Prospect Hall, President of the Polish Certificate Holders Protective Committee of Dom Towarzystw, New York City, Past President of the P.A.L. 92nd Precinct, Vice President of the Polish American Immigration and Relief Committee, Honorary Member of the George Washington Post No. 3, P.L.A.V., Charter Member of the Polonia Democratic Club, member of the Polish National Alliance of Brooklyn, member of the Pulaski Day Parade Committee, Polish American Congress, Polish National Fund, The Kosciuszko Foundation, Pilsudski Institute, The Paderewski Foundation, Polish Millennium Committee, The Polish Falcons of America, Nest 14, the Polish National Alliance of America and several other organizations.
He has also supported many Polish American Youth Organizations including the Polish Dance Groups and Polish Educational Societies. The Polish Singers Alliance of America also benefited by his support. New Matthew was one of the sponsors of the first Polish Television Program in York City and has supported Polish Radio Programs for over thirty years.
Matthew also aided many Poles entering the United States by signing affidavits of responsibility and in obtaining employment for them.
Matthew is happily married to his lovely wife Jennie, nee Glowa, and they reside in Brooklyn. His daughter Eleanor is married to Major Peter A. Beczkiewicz and they reside in Fort Knox, Kentucky where he is stationed. Matthew is the grand father of Mary Ellen, James and Peter Matthew. To Matthew Widlicki and his family, our organization and all of his friends wish them the best of health, prosperity and STO LAT!