Man of the year 1978
Gregory P. Czuchlewski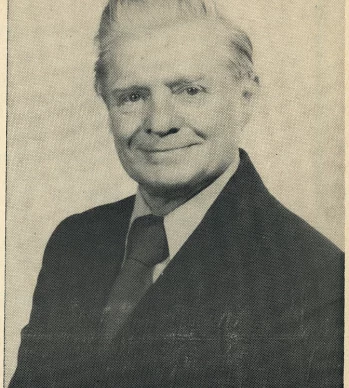 Gregory P. Czuchlewski was born on August 29, 1913 in Williamsburg, Brooklyn. A graduate of St. Stanislaus Kostka School in Greenpoint and St. James Diocesan High School in Brooklyn, he attended City College for three years and then joined his father's furniture business, which operated as the C& M Furniture Corp., until July, 1977.
In January 1942, he entered the military service as a Private and in Aug. 1942, was commissioned a 2nd Lieutenant in Field Artillery at Fort Sill, Oklahoma. He was assigned to the 95th Armored Field Artillery Battalion, of the 5th Armored Division. He served with the 5th in the European Theatre of Operations and saw action through France, Belgium, Luxemburg, Holland and Germany. He received the Unit Citation, five Battle Stars and the Bronze Medal. He returned home in November 1945 as a 1st Lieutenant and again joined his brother in the furniture business.
In 1943, while on leave, prior to overseas duty, he married Adelaide Grebosz, a teacher at the Kings Park School in Long Island. They have three sons, Stephen, Paul and Gregory Jr. Stephen, a graduate of Manhattan College (Cum Laude), received his Ph.D in Atomic Physics from Yale University and is at present research physicist in Laser Fusion at the Los Alamos Laboratory in New Mexico. Paul, a Phi Beta Kappa graduate of Notre Dame University, received his Ph.D. in American Studies from Yale and is at present teaching at St. David's School in New York City. Gregory Jr. graduated from Columbia College with a Masters Degree in English and Comparative Literature in 1976. At present, he is working in The Federal Bureau of the Small Business Administration. Greg and Adelaide are the proud grandparents of two grandsons, Richard and David.
Our "Man of the Year '' has been president of the Pulaski Association of Business and Professional Men for two years; corresponding secretary for six years; chairman of the Essay Contest Committee for four years. He is Past Commander of the George Washington Post No. 3 PLAV; member of the American Legion; Veterans of Foreign Wars; the Polish National Alliance of Brooklyn; the Home School Association of St. Mary's Help of Christians Parish in Woodside; and a 40-year member of the St. Aloysius Young Men's Catholic Club of Greenpoint.
At present, he is the Vice-Director of the Polish & Slavic Center, Inc. of Greenpoint.