Man of the year 1975
George Zielinski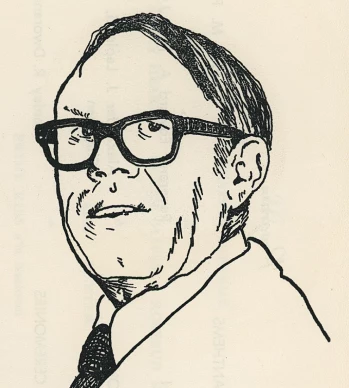 In this, the beginning of our country's bicentennial year, the Pulaski Association of Business and Professional Men takes pride in honoring as its "Man of the Year" for 1975 a businessman whose character and efforts and loyalty typifies the traits which have contributed to our nation.
George Zielinski was born on March 2nd, 1914 in Greenpoint, Brooklyn where he attended St. Stanislaus Kostka School. During his teens, he served as an apprentice in his father's knitting shop where he acquired knitting machines, tools and die making skills.
Married to the former Julia Sicinski in 1936, George and his wife have two daughters, Theresa and Christina. Theresa, a Ph.D. graduate in Chemistry from Fordham University, serves as an Assistant Professor of Chemistry at the College Mount Saint Vincent in New York. Christina, a supervisor in the San Francisco office of the John Hancock Company, is a Business Administration In 1939 George established the American Knitting Machine Company. presently located at Boerum Street in Brooklyn. His products include specialized knitted goods. Many of these items are such as to require design and development of individual techniques and machinery which are also inherent to the products of American Knitting. Following his discharge from the United States Navy after the Second World War, George's brother, Michael, joined George as a partner in the Company and continued with him in the business. graduate of Long Island University.
Since 1959, our '' Man of the Year" has been an active member of the United States Power Squadron which has as its main goals the promotion of boating education and safety. One of his accomplishments with the squadron include Certification as "Captain" by the United States Coast Guard. George's position as Instructor of the squadron includes the presentation of a course in "Basic Piloting" in which he is considered one of the preeminent instructors in the country. He is also Chairman of the Committee of Instructors on the subject.
George's other activities include membership in this organization, which he has served as Sergeant at Arms, Chairman of New Membership and Executive Director; the Holy Name Society of Holy Cross Roman Catholic Church in Maspeth; the Polish American Hi Hatters of South Brooklyn; the Metropolitan Chapter of Kosciuszko Foundation; as well as other civic and fraternal organizations.
To our "Man of the Year", George Zielinski...
Sto Lat.