Man of the year 1987
Edward T. Ostrowski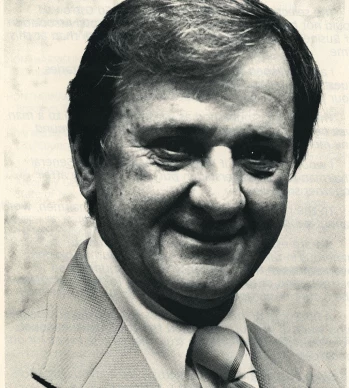 Edward T. Ostrowski, a member of the New York City Sanitation Department for over 35 years, has been president of the Uniformed Sanitationmen's Association since May 1978, when he was selected to fill out the unexpired term of John DeLury. the union's founder Mr. Ostrowski was elected to a full term in 1979 and re-elected overwhelmingly in 1982
Mr. Ostrowski was born on August 7, 1923, in Pittsburgh, Pa. He started his career in the Sanitation Dept. as a street cleaner in the Bedford-Stuyvesant and East New York sections of Brooklyn. Following this service, he was transferred to the Greenpoint section of Brooklyn, where he worked as a driver and loader!
He became active in union affairs shortly after joining the department and served as a shop steward in Brooklyn. In 1965, he was elected Recording Secretary of the Union and a member of the Executive Board. In 1970, he was elected Secretary-Treasurer, and re-elected to that position in 1974.
In addition to his duties as president of the Uniformed Sanitationmen's Association, Mr. Ostrowski is an adviser to the public employees' division of the International Brotherhood of Teamsters. The Uniformed Sanitationmen's is Local 831 of the Teamsters union.
Mr. Ostrowski and his wife, Dorothy, live in Woodside, Queens. They have a son Mark and daughter Gail, son in law Robert, daughter in law Rose and five grandchildren Jennifer, Beverly, Renee, Caitlin, Craig.
An avid baseball fan, Mr. Ostrowski played professionally in the minors for the old Appalachian League Prior to serving in the U.S. Navy in World War II, he worked in the Todd Shipyards in Brooklyn. In 1942 he entered the armed services as a radio operator and served through 1945. He saw action in Guam, the Philippines, Okinawa and Iwo Jima as a member of the Navy's Amphibious Corps.
Mr. Ostrowski is active in numerous civic and fraternal organizations and a prominent member of the metropolitan New York City Polish-American community. In 1983, he raised $50,000 to pay for the life-saving brain tumor operation of a young Polish girl brought to New York for treatment. He is a past chairman of the Pulaski Society of the Department of Sanitation, past president of the Grand Council of the Pulaski Associations, Inc., and a former grand marshall of the Pulaski Day Parade.
Mr. Ostrowski's other affiliations include membership in the Order of AHEPA, the Association for a Better New York and the Municipal Labor Council, he is a member of the Board of H.LP, the Atlas Savings Bank of Brooklyn, and the Queens County Cerebral Palsy Association.