Man of the year 1996
Christine J. McMullan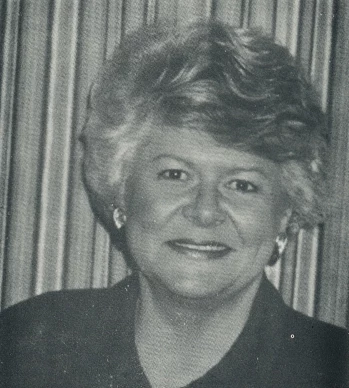 Christine J. McMullan was born in Rathenow, Germany on October 13, 1941 of Polish-American parents. Her family returned to Poznan, Poland where they lived until 1947. Along with her mother Irene Bekker and her sisters, the family came to the United States in that year.
Arriving in the Greenpoint section of Brooklyn, a predominately Polish Community, the family became involved with the Polish National Alliance of Brooklyn, USA, a Fraternal Benefit Society.
Speaking only Polish, Christine attended St. Stanislaus Kostka School, where she learned English and graduated with honors in 1956. While attending All Saints High School she attained high marks and was on the Dean's List for four years.
By 1963 Christine had completed the Drake Institute Business course and has since pursued additional courses in Insurance at both NYU and Purdue University.
Starting in the summer of 1960 as a part-time employee, she has remained with the Polish National Alliance of Brooklyn, U.S.A. ever since, rising through the ranks. In 1978 she was elected the prestigious position of Secretary General, a post she held until elected President and Chief Executive Officer in 1994. The Polish National Alliance of Brooklyn, U.S.A. was founded in 1903 and currently has approximately 8,000 members with assets over $9,000,000.
Mrs. McMullan has been involved in trade associations connected to the Fraternal Insurance industry. She has served as President of the New York, New Jersey and New England Fraternal Congresses, President of the State Section of the National Fraternal Congress of America which encompasses all 50 states and serves 10,000,000 members. She is the Past President of the Fraternal Insurance Counsellors Association of the State of New York and recently completed a 3 year term on the Board of the National Fraternal Congress of America.
For more than 20 years Mrs. McMullan worked with the Youth Councils of the Polish National Alliance of Brooklyn, U.S.A., teaching Polish Folk Dancing as well as the Polish language. She has served on the parish council and other committees of St. Stanislaus Kostka Parish; was President of the Krakowianki and Gorale of the parish. Mrs McMullan has been involved with the Greenpoint Civic Council and the Polish and Slavic Center. Christine is a proud former member of the Matusz Polish Dance Circle, she is also a Harvest Moon Ball Polka Champion (1961).
Christine currently serves on the Boards of the Greenpoint YMCA, Brooklyn Chamber of Commerce and the Kosciuszko Foundation which has been promoting educational and cultural exchanges and relations between the United States and Poland since 1925.
In 1981 Christine was selected as Citizen of the Year by the readers of the Polish American World. The YMCA named her Volunteer of the Year in 1991 and recently she was honored by New York City Comptroller Alan Hevesi for her contribution to Polonia, Christine was honored as an "Honorary Alumnus" of the Orchard Lake Schools just this past November.
Christine and Alexander McMulla Jr. were married in 1964 and have two children, Jennifer and Timothy Jennifer, a graduate of Hofstra University, is married to Dino Catozzo and they reside in Dallas, Texas. Timothy, a graduate of Boston College, presently attending the University of Cincinnati, pursuing his studies in Veterinary Medicine, is married to Ann-Marie Breen and they reside in Cincinnati, Ohio.
Mr and Mrs. McMullan now reside in Lake Hopatcong, New Jersey.