Man of the year 1969
Casimir J. Koszarski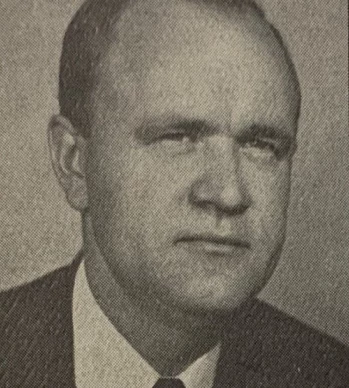 The Pulaski Association of Business and Professional Men takes great pride in presenting as its 1969 Man of the Year one whose dedicated and selfless work for Poland and Polonia has spanned over 35 years, Casimir J. Koszarski.
Although Born in New York City, Mr. Koszarski was raised and educated in Poland, the land whose people, culture and traditions he has worked for so long After returning to the United States and studying at the School of Business at Columbia University, Mt. Koszarski commenced his involvement in foreign trade by organising in 1932 exhibits of imported Polish merchandise throughout the East for Ampol. He soon turned his attention to the field of imported Polish wines and liquors, and his work in this field over the years has both raised Polish wines and liquors to their present state of popularity in the United States, and won him recognition as the most skillful and qualified Polish Americanin the liquor industry. Through the years his business interests have extended over a wide range, including the North-South America Coffee Corporation, Polart Records K&K Trucking And Polmark Export-import. Immediately following World War II he was the first to establish the idea of sending ready made parcels between the U.S. and Poland, and his Polish American Trading Company was the largest organization of its kind in the U.S., with a half dozen offices here and Its parcel shipping operations contributed a great deal towards helping to rebuild Poland after six years of war. Today he still engages in the importation of many kinds of goods from Poland, and is currently distributing the finest of recent Polish films to theatres in the Metropolitan area abroad. But beyond these business interests lie years of tireless effort on behalf of Poland and Polonia. Our Man of the Year has been president of such organizations as the Moniuszko group no. 21 Z.N.P., and the Central Polish Organisations of N.Y, which he added at the outbreak of World War and formed into a powerful and influential force for the cause of Poland in those first years of the war. Mr. Ko Szarski was director of Polish War Relief,and Chairman of their clothing commission, for which he collected and shipped tons of relief supplies to Polish refugees, soldiers and POW's all over the world. He was the representative of Polish War Reliefon the National War Fund, and worked out the complicated relief programs through which that organization donated $5 million to the Polish cause At this time he also conducted the popular radio program, Voice of Polish War Relief." In the field of Polish-Slayvonic relations he Was treasurer of the Otacar Club,and Secretary of the American Polish Czechoslovak Joint committee, in which position he organized the famous Carnegie Hall rally of 1942,at which spoke future Czech president Jan Masarykand other Polish and Czech notables. And throughout these years of work his only reward was the knowledge that he was helping Poland and its people at their greatest hour of need.
He was Chairman of the Polish day celebration at the 1939 World's Fair, and as Secretary of the King Jagiello Monument Committee he helped transfer that beautiful monument from its place of honor before the pavilion to its present location in Central Park.With John . Pateracki he was one of the organizers of the General. Pulaski Memorial Committee, and in 1939 served as Manhattan's Marshall at the Parade. His interest and concern for all things Polish has never lessened, and Mr.Koszarski is always around to greet and help out any Visiting Polish cultural or sporting group.
His work for our own Pulaski Association has been equally tireless and extensive. He was the first Chairman of our Program Committee, serving in that position for five years, and has the distinction of having signed up the most new members, for which we honored him with an award in 1962 During 1967-68 he served as President, and although illness prevented him from doing all he might have wished, he is especially proud of promoting the first Polish Businessman's Monthand seeing that the proceeds of last years successful Man of the Year banquet went to the Kosciuszko Foundation in the form of a scholarship to a deserving Polish American student in business or the professions in the name of the Pulaski Association.
Now on our Board of Directors, our Man of the Year lives with his lovely wife Janina and two daughters, Maria and Elizabeth, in New Hyde Park His son Ted is research director at WNACTV in Boston, and his son Richard is a graduate student at New York University For his years of unselfish service to Polonia we are proud to wish CasimirJ. Koszarski and his family's health, happiness and prosperity in the future.
Sto lat!