Man of the year 1980
Anthony J. Pierzgalski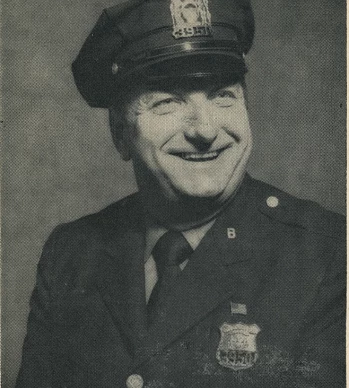 Anthony J. Pierzgalski was born on June 13, 1926 in Maspeth, Queens, and currently lives in Woodside, Queens. An honor student, Anthony graduated from Holy Cross Grammar School in 1940 and Woodrow Wilson Vocational High School in 1944. Within a few months, he was inducted into the Army and spent 18 months overseas in England, France and Germany with the 70th Infantry Division, 3rd Army under General Patton. He participated in the Battle of Saar Brucken, Saar Basin Germany and was later decorated with the Croix de Guerre.
After his discharge in 1946, Anthony joined his parents, Joseph and Aniela, and operated the Willow Restaurant in Maspeth. On September 19, 1948, he married Evelyn Przygocki. They are the parents of two children, Jane Mattina, and Joseph and are also the proud grandparents of Joseph.
On October 15, 1953, Tony joined the New York City Police Department and two years later was assigned to the two-way traffic operations of the Queens Midtown Tunnel. He held this position for 18 years. As a result of his public relations work at this i post, The New York Journal American wrote a feature i article depicting his work, and coupled with this, Tony was later awarded the New York Convention and Visitors Bureau Award. His background was a tremendous asset for his contribution to nationwide TV. the documentary entitled "You Can't Get There From Here Anymore" on traffic and transportation problems in the United States.
Tony has served as the Second and First Vice President and President of the Pulaski Association of the N.Y.C.P.D. He has been instrumental in developing scholarship funds totaling over $14,000, and in arranging annual trips to Poland, The Concord Hotel and other resort areas. He also served as Treasurer of the Grand Council of Pulaski Associations. He is a member of the Anchor Club, the Holy Name Society of Manhattan, Bronx and Richmond, the Holy Name Society of the Holy Cross Church, American Legion Post No. 460, Cardinal Spellman No. 6014 and the General Pulaski Memorial Parade Committee.
He has received many awards and honors as follows: Pulaski Association N.Y.C.P.D., Man of the Year by the Brooklyn Carpet Exchange, Award of Honor by Holy Cross Parish, Past President's Certificate from the Grand Council of Pulaski Association's May 26, 1974, a Certificate of Appreciation from the Polish American Citizens Club of Poughkeepsie, a Certificate of Award, 1974, from the Pulaski Association of the Buffalo Police Department, a Silver Cup Award by the Ampola Association, 1974, on Award of Honor from the Pulaski Association N.Y.C.P.D., 1974, a Certificate of appreciation from the Pulaski Association Nassau County Police Department, and the Unity Award April 1975, from the American Polish Council of Long Island.
For Anthony J. Pierzgalski, the year 1974, was the most memorable. He was unanimously elected Grand Marshall of the Annual Pulaski Day Parade, the first representative of the Civil Service Organizations to be elected to this very prestigious position, whereas as Grand Marshall, he led tens of thousands of Polish Americans in their Annual Pulaski Parade.
A Testimonial Honoring Tony was held on September 20, 1974. Tony's latest Honor was bestowed on him by The Polish Consulate, when on Oct. 5, 1979, he was presented with The Silver Star of Merit, for his efforts in promoting tourism between Poland and Americans of Polish heritage.
To our "Man of the Year," we wish to say Thank You for your time and effort in contributing so much to our community.