Man of the year 1971
Alfred J. Bartosiewicz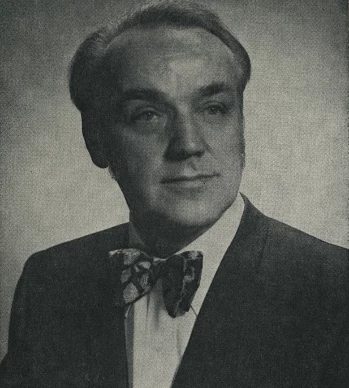 It is particularly appropriate that Alfred J. Bartosiewicz is being honored as the 1971 MAN OF THE YEAR by the Pulaski Association of Business and Professional Men, Inc., in recognition of his dedication to the development of Polonia. He has earned the reputation among his peers as a man who prizes integrity and selflessness. And these are the qualities which best characterizes the nature and purpose of his intense involvement in Polish American activities.
When Al Bartosiewicz was elected to the first of his two terms as President of the Pulaski Association of Business and Professional Men, Inc. in 1963. He immediately committed himself to the strengthening of a young organization struggling through its formative stages. Mr. Bartosiewicz, the proprietor of Newell Fuel Company, Brooklyn, N.Y, worked tirelessly to gain the confidence of his fellow members and his community. During the tenure in office, he motivated cooperation from the membership in support of Polish philanthropic efforts and Polish Supplementary Schools. These efforts, epitimized by the Associations generous support of the Sisters of the Holy Family of Nazareth Building Fund at Monroe, Conn., ultimately inspired the respect and trust of Our Polish Americans.
Having achieved the goal of his Bartosiewiczchose to crease his involvement in Causes affecting economic, social and cultural advancement of his fellow Poles. As in the past he frequently neglected his executive responsibilities in order to expend his considerable energy on projects concerned with the betterment of Polonia. Indeed, his subordination of personal interest and gain is the hallmark of his support of Polish-American activities.
During the past thirty years, his participation as an active supporter of Polonia has included constructive membership in a number of organizations: Pulaski Association of Business Professional Men Inc., Polish National Alliance of Brooklyn, USA, St. John Kantius Soc. Group 260, Polish American Immigration& Relief Comm. Inc., Pulaski Parade Committee, Kosciuszko Foundation, Association of the Sons of Poland, Polish Union of the U.S.A. Holy Name Society, K.D.A.M.- Dramatic Circle, Usher, 30 yrs. St. Cece lia Choir, Member of the Parish Council, Bishop's High School Campaign Fund, Rectory Building Fund. Greenpoint Central Camp Fund, Green Point Chamber of Commerce, Lions Club of Greenpoint, Knights of Colombus.
Consolidated Democratic Cub, John Smolenski Mem. Dem. Club, Winthrop Civic Association Inc of Greenpoint. The following incident best describes the high level of esteem with which he is regarded. A few years ago, Bartosiewicz reluctantly agreed to be interviewed by a correspondent representing one of Polonia's weekly newspapers. When the reporter began by suggesting that Al Bartosi has one of Polonia's "new leaders", Bartosiewicz interrupted in the mid-sentence. He declined to identify himself as a leader and said simply that he preferred to think of himself as a leader and said simply that he preferred to think of himself as "just a little guy". Asked to elaborate, he would only say that Polonia suffered from having too many leaders and not enough little guys to do the work required. The reporter's profile of Bartosiewicz concluded with these observations:
Al Bartosiewicz, if one would type him as "just a little guy", is then without a doubt typical of the mainstay of Polish-American life in this metropolitan area of ours. He's the "little guys" that does the work while others reap the accolades. He's the man who is seldom on the dais but always behind the scenes. He's the little guy" that Polonia can't do without and without whom there would be no so-called Polonia. Although he may continue to work behind the scenes, we have chosen to recognize him as a man who genuinely belongs in the forefront. The Pulaski Association of Business & Professional Men, Inc., and every member of Polonia share in according to Alfred J. Bartosiewicz the public tribute as the 1971 MAN OF THE YEAR.