Man of the year 2019
60th Anniversary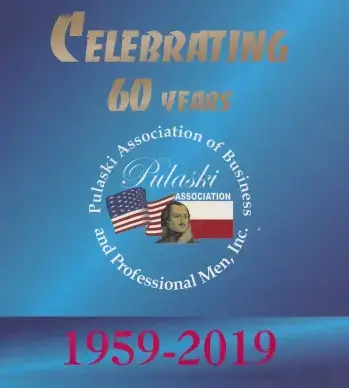 During the following year the stated purposes of the organization were carried out with financial support given to many charitable organizations. Not only was financial aid given but many of the affairs and presentations were supported. The organizations supported were not only in the United States but also in Poland.
The Civil Service organizations were also given the whole-hearted support of our organization. The support of the organization was also directed to the political side of affairs with the organization giving their support to Judge Ludwig Glowa and Judge Walter Bayer. This support was effective and both were reappointed. Many of the Polish-Americans that ran for elective office were also helped.
The businesses of Polonia were not neglected and our organization is proud of the fact that all of our affairs and meetings were held in Polish-owned places. With the growth of the organization, the members were not neglected. Lectures and seminars were structured to benefit everyone. The first instance of this was a lecture by the Honorable Roman Lapinski, Deputy Commissioner of the State Liquor Authority. His knowledge and expertise were helpful to those members in that industry.
During the eighties and nineties, our organization continued the work in reaching other organizations requesting assistance. Most of our meetings took place in Polonaise Terrace, which was owned by our longstanding member Vincent Brunhard Jr. A lot of our events organized by Mr. Brunhard were outstanding and memorable for all our members and we are very grateful to him. During those years we cannot forget other distinguished members like Antoni Matrejek the organizations treasurer for many years, Gregory Czuchlewski corresponding secretary, Raymond Dobosiewicz legal adviser, Richard Dworanczyk, Raymond Dzejma, John Bartosiewicz, Joseph S. Czestochowski and Roman Kruk. We should not forget members like: Frank Orminski, Henry Polanski and Leon P. Klementowicz. All these individuals had a tremendous impact on our organization. As a result of their dedication, we could continue our charitable activities and step into the new Millennium with new members belonging to the young generation, immigrants from Poland.
MERRY AND HAPPY GET-TOGETHER AFTER A TYPICAL MEETING.
The year 2000 saw a milestone in our organization. We elected Bogdan Bachorowski as president. He is the first Polish-born man to head our organization. Instinctively that opened a wave of Polish immigrants to our organization who have helped us grow with their political, financial a charitable functions.
Over the 60 years, Polish organizations, Churches, Schools, Institutions, Scouts, Veterans, Religious Orders, Artists and more operating in the United States and abroad, have received financial assistance from our organization. We also supplement students from High School to college with an annual scholarship program where we give away nearly $10,000 annually to students of Polish heritage to assist them in their educational and career endeavors. The scholarship program was reinstated in 2002. Since that year our organization continues its efforts to promote scholarship amongst our young people. To date we have donated approximately $180,000 to students.
Through our 60year history ten members have been honored with the title of Grand Marshall at the Annual Pulaski Day Parade along Fifth Avenue Ignatius Nurkiewicz, Francis J. Wazeter, Martin M. Weglicki, Joseph Bekarciak, Alfred J. Bartosiewicz, Vincent Brunhard Sr.. Leon P. Klementowicz, Dariusz P. Knapik, Artur Dybanowski, and Slawomir Platta, respectfully in that order. Many other members have been chosen as Contingent Marshalls representing the neighborhoods they live in or participate in. The Pulaski Association of Business and Professional Men Inc, annually chooses a "MAN OF THE YEAR", an individual who based on his character and his contribution to the upkeep of the Polish Community as well as his Polish integrity receives this award in a ceremonial banquet. Such individuals have been selected from the
following groups of people: Polish Contractors, Polish American Travel Agents, Polish Parishes, Polish Slavic Federal Credit Union and Women of the Millennium.
Our members continue to fight for and support our Polish heritage, nationality, culture, and people. Our members are continuing efforts to promote Polish awareness throughout Polish neighborhoods.
The Republic of Poland recognized the efforts of some of our distinguished members by bestowing upon them the GOLD CROSS OF MERIT & KNIGHTS CROSS OF THE ORDER OF MERIT OF THE REPUBLIC OF POLAND. These distinguished members are Bogdan Bachorowski, Zygmunt Bielski. Vincent Brunhard Jr., Richard Brzozowski, Bogdan Chmielewski, Dariusz Knapik, Romuald Magda, Anthony Matrejek, Frank Milewski, Pawel Pachacz, Piotr Pachacz, Roman Rurak, and Tadeusz Wozniak. The order given was to honor these members and was signed by the Polish President.

Finally, our organization was a staple in the erection of the General Kosciuszko Monument with help of Victoria Consulting & Development, LLC, its president Dariusz Knapik, and Assemblyman Joseph Lentol, our honorary member. The monument will be located next to the newly built Kosciuszko Bridge in Greenpoint, Brooklyn.
Our members are always involved in the Polish community and affairs. We truly believe that our organization will continue its efforts to promote Polish Heritage in the years to come.